April7, 2021,Nantong, Beijing——Fontacea (Shanghai) Pharmaceutical Co., Ltd announced strategicpartnership with Thousand Oaks Biopharmaceuticals(Nantong)Co., Ltd.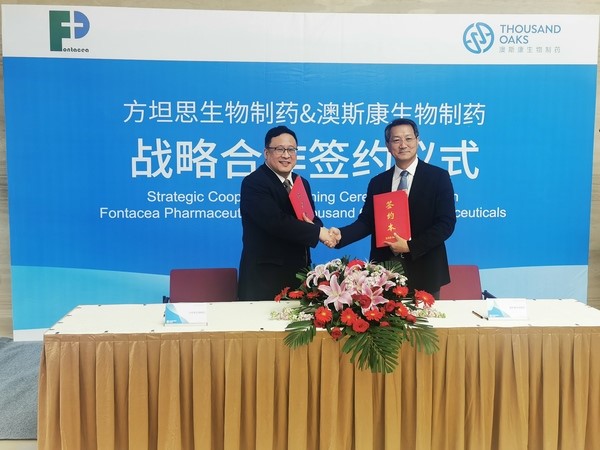 Fontaceais a clinical stage biopharmaceutical and biotechnology company. The companypays equal attention to self-research and in licensing programs. And Thousand Oaks focuses on the creation ofthe biopharmaceutical industry chain, and has formed a unique "integratedcost control plan", which fully empowers customers to manufacturehigh-quality and cost-effective drugs from the four dimensions includingpharmaceutical equipment + supplies + culture medium + production process.
Thiscooperation will enable both companies to draw on each other's strengths. Inaddition, Thousand Oaks will surely provide long-term customized culture mediumof clinical and marketed products. With integrative cost control plan, ThousandOaks will continue helping to get our products on the market and benefitpatients as soon as possible.
About Fontacea
Fontacea is abiotechnology company dedicated to bringing new treatments to patients in Chinaand around the world. Our team consists of experts of drug discovery anddevelopment and scientists from China, the United States and Europe. We mainlyengage in developing and commercializing drugs for oncology and autoimmunetherapy. The company selects, develops, and commercializes pharmaceuticalproducts worldwide through independent research and development andlicensing/collaboration. We are committed to becoming the leader in the fieldof antibody drugs.
About Thousand Oaks

Thousand OaksBiopharmaceuticals Co., Ltd. is committed to becoming a leadingbio-pharmaceutical company that provide services including raw materials, supplies,pharmaceutical equipment, technical services, and production based on the contracts.Focusing on CMC Biomanufacturing, Thousand Oaks can provide customers withone-stop service including "R&D, Process, Production, Logistics,Technical Support and After-sales services". Thousand Oaks has an internationaloperation and technical team and has many years of experience in the biopharmaceuticaltechnology and industrialization. Thousand Oaks Biopharmaceuticals Co., Ltd.can provide advanced CDMO services, and has passed the quality audit of NMPA,FDA and EMA for many times. This company is currently operating a cGMP plant of10,000 ㎡, with the capacity of 2000L batch culture and 500Lperfusion culture production. The formulations production plant is equippedwith vials subpackages /Lyophilized and prefilled syringes/ Cassette bottlessubpackages. Thus, Thousand Oaks can provide a variety of production servicesfor clients from China and abroad at the same time.